Rwandan President Paul Kagame on Sunday, March 15, challenged President Uhuru Kenyatta to take part in a World Health Organization (WHO) hand-washing challenge to combat the spread of COVID-19.
Kagame shared a minute-long video of himself washing his hands as he explained the right way to do it, challenging Uhuru to do the same.
"I'm joining the WHO's Safe Hands challenge. Hand-washing is one of the most effective ways of preventing the spread of the Coronavirus.
READ ALSO: Uhuru's arrival at Harambee House with inverted car No. plate stirs public reaction [PHOTOS]
"Wash your hands with soap and water for at least forty to sixty seconds," Kagame stated.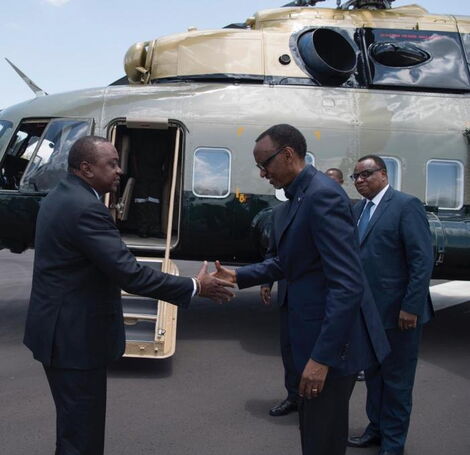 Captioning the video, he challenged other leaders to join the challenge by sharing a video of themselves, among them Uhuru, Tanzanian President John Pombe Magufuli, Democratic Republic of Congo (DRC) President Felix Tshisekedi and United Kingdom (UK) Prime Minister Boris Johnson.
"I joined WHO SafeHands challenge. Handwashing is key to preventing the spread of COVID-19. I challenge President Kenyatta, Macky Sall, Magufuli JP, President Tshisekedi, Cyril Ramaphosa and Boris Johnson to join in by sharing a video," he asserted.
The challenge is an initiative of WHO to raise global awareness on the virus which has so far killed more than 6,400 people around the world.
READ ALSO: Uhuru convenes crisis meeting amid Coronavirus scares
Rwanda has so far confirmed five cases of Coronavirus within their borders while three cases have been confirmed in Kenya.
Kenya and Rwanda are among 26 countries in Africa that have reported cases of COVID-19.
The Rwandan government has taken a number of measures to prevent the spread of the virus including providing hand-sanitizers and hand-washing equipment in all public places.
Uhuru announced sweeping actions meant to combat the spread of COVID-19 in Kenya on Sunday, March 15.
Among other things, learning was suspended in all institutions across the country indefinitely.
The entry of individuals from any country with confirmed cases of the virus into Kenya was also suspended for thirty days, save for Kenyan citizens and foreigners with valid residence permits.
READ ALSO: Miguna Miguna speaks up on plans to oust DP Ruto
In addition, government agencies and businesses were urged to allow employees to work from home except for those offering critical services.
"I want to assure all Kenyans that any patient who has come into contact with this disease will be given full support to ensure that they are able to recover.
"As we know, many across the globe have been infected but have also recovered. We are very hopeful with treatment, and we are learning every day. Those in our country who will come into contact with this disease, we are very hopeful and are working very hard to ensure their full recovery.
"We all know the risks, we all know the fatalities, we all know what has happened across the country. We are just saying that we will do everything in our power to ensure that we minimise loss of life and maximize the full recovery of those who have been affected by this virus," the President stated
Watch the video shared by Kagame below:
I joined @WHO #SafeHands challenge. Handwashing is key to preventing the spread of #COVID19. I challenge President Kenyatta @StateHouseKenya, @Macky_Sall, @MagufuliJP, President Tshisekedi @Presidence_RDC, @CyrilRamaphosa, @BorisJohnson, @KGeorgieva to join in by sharing a video pic.twitter.com/udaVPCexCJ

— Paul Kagame (@PaulKagame) March 15, 2020