Kapseret MP Oscar Sudi presented himself to the DCI headquarters on Tuesday, October 13.
Sudi was allegedly being questioned by the DCI officials over the tendering of fraud amounting to Ksh150 million at the National Hospital Insurance Fund (NHIF).
It is still not clear what information detectives are hoping to get from Sudi who was recently released on a Ksh500,000 cash bail in a case where he was charged with five offences including ;offensive conduct, resisting arrest, being in unlawful possession of a firearm and assault of a police officer..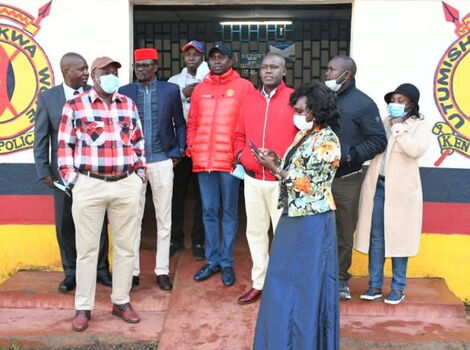 As at last month, detectives are said to have been investigating four separate allegations of theft of funds at the national health insurer.
In a letter dated September 10, 2020, detectives were investigating allegations of fraud involving healthcare providers in Kenya.
In addition, the health insurer is also on the spotlight over the appointment of directors and heads of department who are allegedly not qualified for the job.null
In yet another letter, the investigative body is investigating the fraudulent acquisition of public property.
In 2018, there was another scandal where it emerged that at least Ksh1.5 billion of taxpayers money disappeared at the health insurer.
Eighteen suspects among them former National Hospital Insurance Fund (NHIF) CEOs Geoffrey Mwangi and Simon Kirgotty were charged over the alleged loss.
Anti-corruption court Chief Magistrate Douglas Ogoti issued the various charges, however, Kirgotty and Mwangi denied the damaging allegations and were released on a cash bail of Ksh2 million each.
Some of the suspects were released on a cash bail of Ksh1 million and others Ksh 300,000.